iShip | Service | Upgrades | Engineering

iShip

iShip, the intelligent, intuitive integrated ship monitoring, alarm and control system, puts the vessel in control of the operator.

• Global hardware and software support
• User friendly intuitive graphical interface
• Common readily available hardware

iShip uses an open architecture philosophy based on Marine Approved off-the-shelf hardware. Elecmec is a systems integrator for major hardware and software suppliers. These alliances enable iShip to evolve with leading edge technology as it is applied to the industrial sector. Customers are not at the mercy of proprietary suppliers. Our hardware is specifically selected with worldwide availability, simplicity and support in mind.

• Integrates all ship machinery systems and operations
• Collates and presents information from these systems
• Provides an easy to understand, central source of information and control
• Is simple and intuitive to use
• Gives complete control over ship systems
• Gives instant warning of problems
• Uses multi-level screens to give overview or detail
• Has a high level of configurable security
• Uses fully redundant, decentralized processing for extreme reliability
• Is tailored for each vessel type
• Is compatible with most major engine and equipment suppliers
• Complies with all major marine classification societies
• Uses commercial off the shelf hardware
• Includes user-customizable software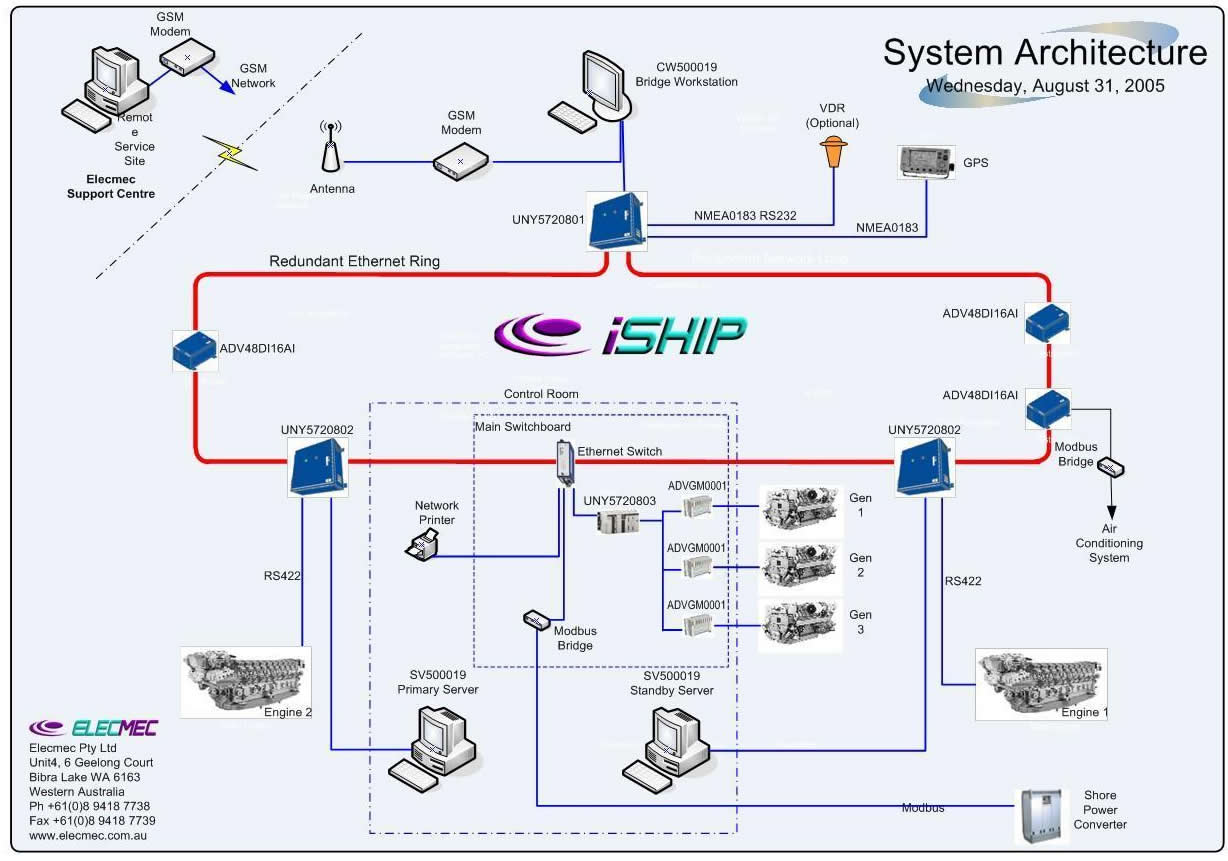 Click to Enlarge
Design Philosophy

To deliver the best solution, using leading edge technology that can be serviced and maintained globally while
providing the flexibility required for now and in the future and to provide a complete solution that puts the
customer or operator in control by design & utilisation of the product that allows the crew to become self
sufficient.

iShip uses an open architecture philosophy based on Marine Approved off-the-shelf hardware. Elecmec is a
systems integrator for major hardware and software suppliers. These alliances enable iShip to evolve with
leading edge technology as it is applied to the industrial sector. Customers are not held to ransom by
proprietary suppliers. Our hardware is specifically selected with world wide availability, simplicity and support
in mind.

iShip's total integration
• Enables the design to advance rapidly, in concurrence with the vessel design.
• Allows the system to be tailored specifically for the needs of the customer.
• Allows the shipyard the flexibility to align the system with specific vessel performance specifications.
• Allows the majority of the vessels systems to be integrated and tested off line reducing "On Vessel" labour
and commissioning time.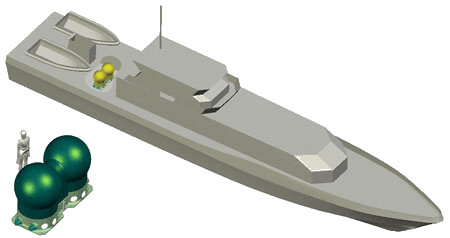 Control

Electrical, Air-conditioning, Pumps, Valves, Motion Control.
iShip provides open and closed loop control as required and can also integrate with third party equipment
and systems to provide a central control and monitoring station. iShip offers optional control integration
using the same range of hardware modules. Power management air conditioning and motion control
are a only few examples.

Monitor

Equipment conditions, Tank & bilge levels, Valve positions, Pump conditions, Fire door positions, Electrical distribution.
Data is presented in bargraph format where appropriate for instant comparison. Analogue instruments
and digital readouts are also used. The trend on a measurement can be seen instantly with a click of the
mouse. On-off or open-closed functions are indicated by unambiguous colours and text.


Alarm

Fire, Flooding, Over or under temperatures, Fluid levels, Engine warnings.
All monitored parameters are individually set to suit the vessel and its operating norms Visual and sound alarms are prominent on screen in use in both symbolic and text format.


Display

Clear, concise graphics, Multiple levels, Configurable security.
Like aircraft 'glass cockpit' technology, it shows overview pictorials until the operator requests more
detail via simple navigation provided by intelligent graphical objects with the option to drill deeper using
intuitive right click menus that provide quick and easy access to more detailed information. This feature,
together with iShip's unique use of animated colours and symbols allows a simple small object to display a wealth of information.


Analysis

User-configurable trending, User-Configurable Reports, Archiving and sharing of data for off line analysis of data for fleet-wide, maintenance management.
Powerful trending and charting tools allow historical analysis and diagnostics to be used to predict failures
and undesirable situations prior to the event. Trend graphs and scenarios are easily configured and the configurations re-used by retrieval. Data can be exported for off line analysis with standard tools such as
Microsoft Excel.


Training And Self Help

Off Line Mode, Scenarios, Online documentation, Schematics, Vessel statistics
iShip is capable of storing and displaying the vessels technical documentation allowing full on line access to important information. Live scenarios can be stored and retrieved in off line mode for operator familiarisation.
Our standard off the shelf hardware is specifically selected for its plug and play characteristic as well as
simple on line and local diagnostic features.


Maintain

Machinery Maintenance, Manager, Online maintenance, schedules.
Prompt for maintenance tasks due. Spares and consumables. Fuel usage. Maintenance history.